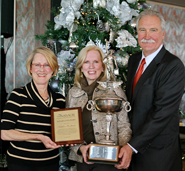 Kathleen St. James Awarded the 2013 Howard Gates Award!
Kathleen St. James was the recipient of the 2013 Howard Gates Award. This is THE MOST highly regarded award presented to a local Realtor. An honor bestowed by her peers, the 2013 award was in recognition of completing a difficult and complex transaction requiring extraordinary endurance, tenacity, diligence, patience and skill.
---

"I normally do not write a letter regarding a real estate transaction but this last one was so fabulous that I have made an exception.

Kathleen St James came to me highly recommended. I had just remolded a home and she told me that she could stage it so that it would look like a cozy California Cottage. She wasted no time in getting it staged and professional pictures taken and beautiful brochures made. In one weeks' time, Kathleen had talked to most of the best realtors in Montecito to let them know about my house.

In two weeks' time, I had two full price offers and one for over the price that I had the home listed. This was in November when typically homes do not sell quickly. I have dealt with many realtors and have bought and sold more than 15 homes in Santa Barbra in the past 20 year. I have to say that from beginning to end, Kathleen made this process painless and she was on top of everything.

Her professionalism, her attention to detail and her knowledge on what sells a home makes her the best real estate professional that I have encountered.

Thank you, Kathleen for helping me get the most money for the least amount of work. I will defiantly use you for all my real estate needs in the future. "
Rita Murdoch
---
"Kathleen was able to successfully market property in the Minneapolis area during extreme cold temperatures at a time when the interest in properties was at its lowest. Other agents were very skeptical about any results. Kathleen's success was due to her ability to stage the home very professionally and had photos of the location professionally taken. These were combined to form a website she had developed that would surpass other professional websites. She got interested parties through some avenues that other Realtors said would never produce results. Kathleen has shown that she has many contacts that have proved effective.

Her idea to have small items be upgraded such as knobs, chandelier and kitchen faucet to larger items such as stove, dishwasher, microwave and center island counter top did result in amazing results.

Kathleen went further by negotiating a price that exceeded that of a similar unit in the same area which has been on the market for several months and has yet to find an interested party. Within one month, she found a qualified party and a contract was signed. Her success was due, in part, to her ability to network, her efforts in advertising with flyers, phone calls, meeting with people having important contacts themselves and use of the Internet.

Overall, Kathleen has done more to ensure a successful sale than any other Realtor I know. This is why she is in the top one percent of Realtors in the top Realty company in the US."
David G, Goetz,
Minnesota
---
"Kathleen St. James is truly a dream package: dynamic, enthusiastic, stylish, generous, resourceful, trustworthy, informed, innovative, engaged. From a fantastic eye for staging to knowledge of the latest marketing trends to hands on involvement in every detail of the sale, Kathleen gives all.

I had to renovate and sell my family's home in Santa Barbara, yet I do not live there. Kathleen offered sound advice and a ready list of professional workers at every step. Not only that, but she checked in every day to oversee the process and to ensure that all was correctly completed. Once in negotiations, Kathleen's diplomacy, acumen and tenacity closed the sale at a higher price than any other realtor had suggested in presales discussions.

Kathleen appreciates a property's unique values. She also takes the time to truly listen to a buyer's list of specific needs and of hopes to fulfill their aesthetic dreams. She demands quality and fairness and strives to find the right match.

She more than proved herself to me."
Penny Morris Finocchiaro
San Francisco, CA
---
"Persistence, Professionalism, and Personality... Today, it seems, few marriages, friendships, professional relationships or business goals survive five years. Add to the personal and financial stress of a six and one-half year business agreement, the uncertainty and poor performance of the economy and in particular, the real estate market; a typical business relationship could have easily been destroyed. To survive in this business environment has been difficult, especially when teamwork and support evaporate, few, if any qualified buyers are available, and the property size, boundaries, legal description and easements are complex.

Amapola Ranch was fortunate to have had a professional realtor in Kathleen St. James, who tenaciously continued to advertise the Ranch, carefully explain the metes and bounds even to unqualified buyers in the hope they would bring others more qualified to the Ranch. Over the six and one-half years this may have seemed to hapless task to others. But not to Kathleen, who persevered, and always had a positive report after a showing.

Her soft, nonaggressive nature, appealed to the many who previewed the property. This very nature carried her through these difficult economic and challenging times. She was a true champion of the Ranch and the property owners.

After these six and one-half years of a very uncertain market, the client relationship with Kathleen has been strengthened because of her Persistence, Professionalism and wonderful Personality."
With thanks and respect, Merlin Rossow
---
"There wasn't a doubt in our minds from the very beginning that Kathleen St. James would represent us in the listing of our Padaro Lane home, since we were so favorably impressed by her dynamite personality, enthusiasm, and appreciation of our property... but we had no idea how abundantly our instincts would be rewarded. Kathleen turned the very serious endevour of pricing, marketing and selling our beach-front home into an enjoyable adventure. We would take that trip with her again, gladly.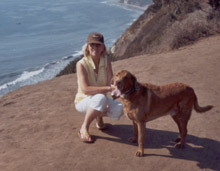 A valuable extra Kathleen St. James brought to the table was her years of sales experience in the design profession which paid off in her tasteful "staging" of our house and taking it to the next level of appeal... but the unforeseen icing on the cake was her very sincere generosity of spirit; she surpassed a real estate agent's normal obligation - giving 110% of her energy, time and talents every step of the way, and in ways above and beyond.

Kathleen at the same time, introduced us to our new dream home, perfectly suited to our present needs, and carried us on the same magic carpet through that process, concurrently.

We want to express our very real appreciation to Kathleen St. James, a truly fine person and professional who made the most valuable transaction of our lives an unexpectedly rewarding experience on every level."
Sherrill & Charlene Broudy
Listed Padaro Lane Premiere Property
---
"I am writing to endorse Ms. Kathleen St. James' outstanding ability. Our paths crossed when I responded to a real estate listing (for Kathleen's then residence). The moment I entered her home I was impressed by the style, comfort and balance of the interior. Unfortunately, I was not the first to see the property and lost the chance to rent from her, but Kathleen's warm personality made a positive impression on me and we kept in touch. Less than two years passed before I purchased a house. Kathleen was the first person I called to help me turn it into a home. She served as consultant on the project and I found her to be professional, honest and a great deal of fun! I cannot overstate her competence in the field, and trust you will find her an asset to any project to which she commits her time and talents."
Gail D. O'Neill, HGTV
Client- Interior Design: Atlanta, Georgia
Listed Padaro Lane Premiere Property
---
"Kathleen, I want to thank you for the excellent volunteerism at the 2004 CALM Design Showcase House & Gardens Event. Your effort helped to make this project a success. It has been a pleasure working with you. Thank you for helping CALM help children in Santa Barbara."
Rebecca Adler
Volunteer
Director of CALM
Listed Padaro Lane Premiere Property
---
"Kathleen called us in Minnesota to tell us about a property she was selling in FL. She thought it would be a great opportunity for Daryl and I to get into the second home market. Thanks to Kathleen, we were able to make the purchase while still residing in MN. Kathleen's confidence, her knowledge of real estate, and understanding our needs, made this an ideal transaction."
Daryl and Gail Swanson
Sold Home: Naples, FL
Listed Padaro Lane Premiere Property
---
"Kathleen listed my house, and she was very professional, personable & helpful. She was extremely knowledgeable about all aspects of the selling procedure. She was the most outstanding realtor I've ever been involved with regarding sales, and my entire family loved and respected Kathleen."
Listed Property on Riviera
Pat Haglin
Santa Barbara, CA
Listed Padaro Lane Premiere Property
---
"I am pleased to introduce myself on Kathleen's behalf and also to share my knowledge of her personally and professionally.
For the past 26 years I have been involved with real estate projects on many different levels. These include being a licensed Realtor, a Real Estate Appraiser, a Property Manager and an Investor. I am currently in the business of refurbishing homes and have just completed the restoration of a home on the Historical Register. Kathleen has worked as a consultant on many of my projects. Kathleen has been my mentor and inspired me to get started in real estate. We met several years ago when I worked for her on an estate she managed in Minnesota. Kathleen knows how to get things done. She is incredibly resourceful and tenacious. Her enthusiasm is contagious and she is a motivator, both qualities which contribute to her success in managing others. She approaches each project with a clarity of purpose and she adds class and a unique sense of style to every project. Kathleen has a wealth of personal and professional experience and contacts in the business world and in the real estate and design fields. If you are looking for a highly responsible, honest, reputable individual whom you can trust to take initiative, Kathleen will not disappoint you."
Shared Real Estate Projects
Nancy Stratton
Minneapolis, MN
---